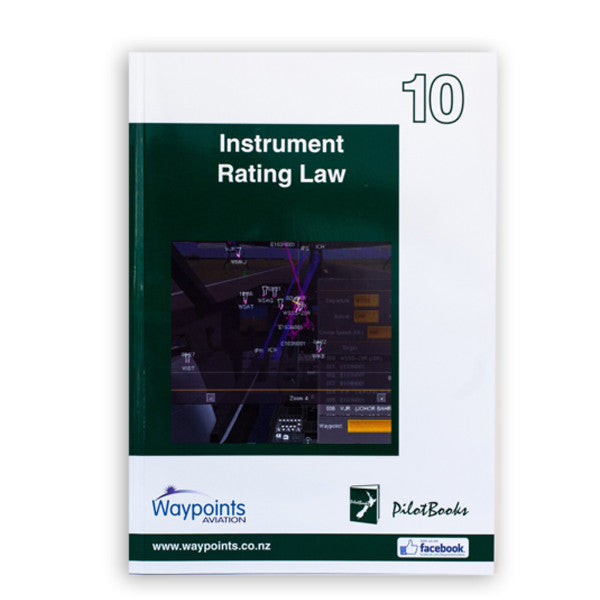 Vol 10: Instrument Rating Law (September 2023) - GST Excl
Quick Overview
The Instrument Rating Law text has been rewritten to cover the recently revised syllabus requirements of AC61-17 (subject 52) Rev 14, and to assist you in developing your knowledge and understanding of the rules which guide and limit IFR in New Zealand.
Also available in iBook format
The current version of the Vol 10 iBook has not yet been updated to meet the revised syllabus items in AC61-17 Rev 14.  We are working as fast as we can to update the iBook, but I don't expect to be available for a few months.
To download/buy the Vol 10 in iBook format, click here.
Details
Instrument Rating Law revolves around a number of documents such as Civil Aviation Rules, the Aeronautical Information Publication (AIPNZ), the Civil Aviation Act and a few other legislative documents.  Volume 10 is a manual that covers, in plain language, most of these topics but it cannot be expected to cover them all.  Thus students must have access to the documents, either through access to the internet, through purchase or on loan from their training provider or friends.  Whichever method is used, it is essential that the documents are of the latest edition.
The Instrument Rating Law manual summarises most of the applicable Civil Aviation Rules and goes to considerable lengths explaining the IFR procedures and requirements laid down in the AIPNZ.  Very extensive use is made of diagrams in support of the text.
It is a feature of the aviation industry that rules and regulations are subject to frequent change which requires many amendments to be made to this manual.
Most paragraphs dealing with specific topics start with the official document reference.  For example, Requirement for Alternates is covered in Chapter 3, the text starts with CAR Part 91.405 which means the associated official document is Civil Aviation Rule Part 91.   Or, Terrain Clearance for IFR Flights is covered in Chapter 6 and the text starts with AIPNZ ENR 1.6 para 4.12 which means the Aeronautical Information Publication, Enroute section, page 1.6 para 4.12.  So it is a simple matter for you to read the text in Volume 10 and then refer to the stated reference for the full text.
Instrument Rating Law not only repeats and elaborates on many aspects of rules, regulations and procedures, it also gives practical advice and examples wherever possible.  In this fashion 'the Law' is made more readable, practical and interesting.
As with Volume 5, the Instrument Rating Law manual is orientated towards New Zealand requirements and conditions, this aspect may not suit all overseas students unless some intend to do their subsequent training in New Zealand.  Nevertheless there are many pages that contain material applicable to ICAO countries, in this regard Instrument Rating Law is of substantial value.